Joe works at an all-natural/organic grocery store, and sometimes he gets to go around to different shows to meet vendors, taste products, etc. Once in awhile, he'll go to the produce show... and bring home 3 pounds of apples. For two people. One of whom says "I like apples" which is really code for "I only like apple pie or apple crisp". The thing is, there's only so many things you can do with a damn apple... and I can only eat so many before I turn into one. Enter these apple crisp muffins, which are perfect for when you've missed the last three prime fall/winter baking seasons (thanks, grad school) but have a boat load of apples that you've gotta do something with.
Click the link for photos and the recipe!
Apple Crisp Muffins
To print this recipe,
click here
.
Ingredients
Muffins
2 c. flour
1 tsp baking powder
1/2 tsp. baking soda
1/2 tsp salt
1/2 c. (1 stick) butter, softened
1 c. white sugar
2 eggs
1 1/4 tsp vanilla
1 1/2 c. chopped apples (I used 2 medium sized apples)
Preheat oven to 375°F. Line a 12-cup muffin tin with cupcake papers or grease the muffin tin if you don't have cupcake liners.
Mix flour, baking powder, baking soda and salt in a separate bowl. In a large bowl, beat butter, sugar and eggs until smooth. Mix in vanilla. Stir in apples and gradually blend flour mixture. Batter will be thick, like cookie dough. Spoon batter into the muffin pan. Use all of the batter.
Topping
1/3 c. flour
1/3 c. oats
1/3 c. brown sugar
1/2 tsp. cinnamon
1/2 tbsp cold butter, cut into pieces
Combine dry ingredients. Cut in butter until mixture is crumbly. Sprinkle over muffin batter. Bake for 20 minutes or until a toothpick inserted comes out clean. Yields 12 standard-size muffins.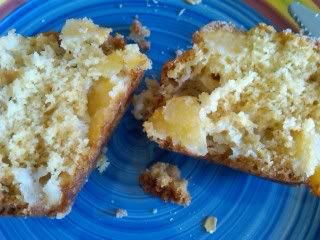 If you end up making these, let me know how they turned out!