One Monday in October, work was closed because of a declared State of Emergency due to Hurricane Sandy. I was bored out of my skull, and my boyfriend suggested I make bread. Before looking up recipes, I looked through the cabinets to make sure I had all of the ingredients. I did, so I hurried off to my laptop to try and find a fairly easy and fail-proof recipe. Instead of finding one recipe I liked, I found three. The problem was that I liked different parts of them. I liked some parts of the actual recipe, some parts of the method, some parts of the timing. They were all more or less the same, so I decided to take the parts I liked from each of them and create my own (I do this fairly often).
My mission was successful, and I've made this bread 3 or 4 times since then. It's sort of time consuming in that it takes a few hours to make, but you spend most of the time waiting for it to rise, so there's really a lot of down time where you can clean up the mess you've made or throw in a load of laundry or practically pee yourself over excitement for making bread for the first time (I chose the latter).
Click below for the recipe and some photos!
Italian Bread
To print this recipe,
click here
Ingredients
3/4 cup warm water
1 packet active dry yeast
1 tsp salt
1 heaping Tbsp sugar
1 Tbsp Crisco
1/2 cup milk
3 cups + 2 Tbsp all-purpose flour
Directions
Dissolve yeast in warm water. Add salt, sugar, Crisco and milk - stir.
Mix in the flour, 1 cup at a time, until dough is thick and chases the bowl around the spoon. Knead dough by hand, adding in the 2 Tbsp of flour one at a time, until the dough is smooth and soft, but not sticky. Put the dough into a greased bowl and cover with plastic wrap (or a plastic grocery bag - that's what I did) until it doubles in size, approximately 1 hour.
Punch dough down and stretch out on a floured surface. Roll tightly, pinching the seam each time. Dough should be oval shapes with tapered and rounded ends. Cover with a damp towel (I used the paper towel I had used to dry my hands after I shaped the dough) and allow dough to proof until it doubles in size, about 30 minutes.
While bread is proofing,
line
oven with a pizza stone or upside-down baking sheet. Preheat oven to 425°F.
Score 3 slashes, about 1/4" deep, across the top of the dough.
Remove the inverted sheet pan from the oven. Dust with flour and carefully transfer the dough. Generously mist with water.
Bake for 3 minutes, then open the oven and spray the bread with water again.
Bake another 3 minutes and spray bread with water a third time. This helps the crust get nice and brown and crispy.
Bake an additional 20 minutes until the bread is a deep, golden brown color and the bread sounds hollow when you knock on the bottom (use a wooden spoon so you don't burn yourself!).
Transfer to a wire rack to cool.
Bread will have a crispy, crunchy crust, but soft and chewy inside.
Holy hell - it actually LOOKS like a loaf of italian bread!
Opening the oven to spray it with water is a good photo opportunity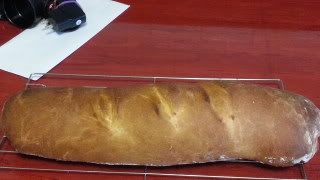 omnomnomnom!