I know the title says chewy ginger snaps, but I want to start this post with a question. I have tons of recipes - cookies, cupcakes, candy, Jewish food, etc. I'm basically just picking what to post about at random, but I have so many things to choose from? Is there anything in particular you want to see next? Comment below and let me know if there is!
Now that that business has been taken care of...
Chewy ginger snaps.
Joe spent pretty much the entire month of November asking me to make ginger snaps. Begging is more like it. I think I told him about 100 times that I didn't have all of the ingredients (I'm looking at you, ground cloves and ground ginger). After a couple of weeks of this, he brought me home a bag of crystallized ginger chips as well as the spices that I needed (and also two candy bars, but that has nothing to do with this story). I guess he just wasn't going to take no for an answer.
Follow the link for the recipe, photos and my review!
Chewy Ginger Snaps
To print this recipe,
click here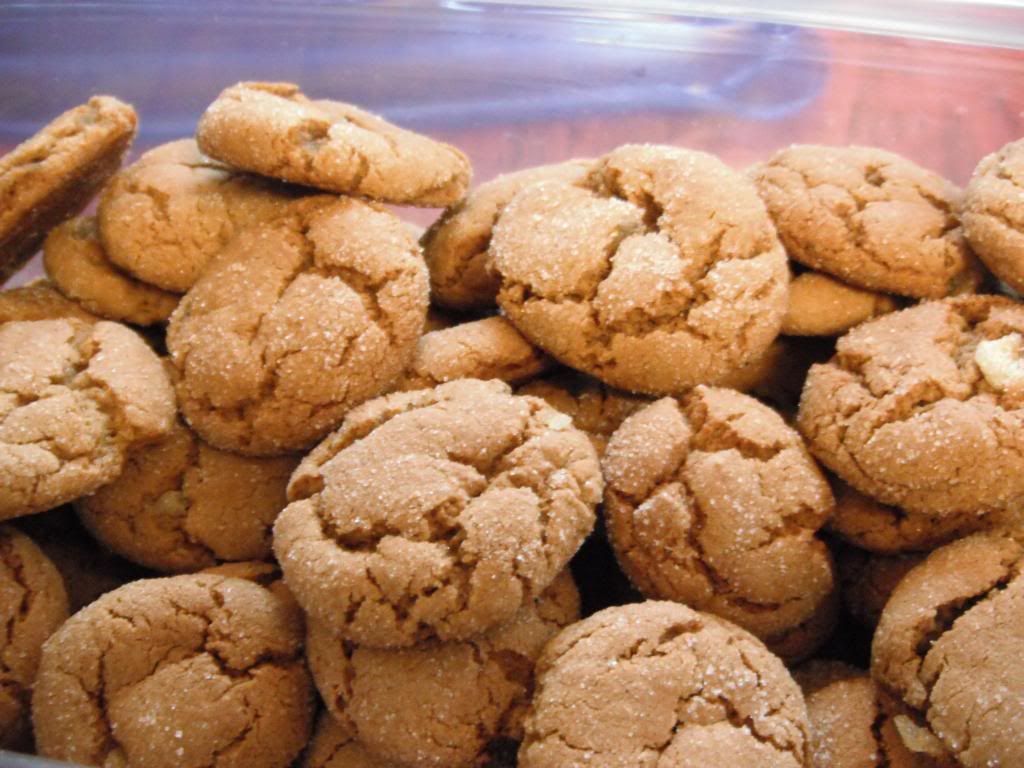 1 1/2 sticks butter, softened
1 cup sugar
1/4 cup dark molasses
1 large egg
1/2 teaspoon ground cloves
1 teaspoon ground ginger
1 teaspoon cinnamon
2 teaspoons baking soda
1/2 teaspoon salt
2 1/4 cups flour
1/2 cup crystallized ginger chips
about 1/2 cup sugar, for dusting
In a large bowl, mix butter and sugar. Stir in molasses and egg. Add dry ingredients, stirring in the flour last. Mix in the ginger chips. Batter will be thick and hard to stir.
Chill dough in the refrigerator for one hour.
Preheat oven to 375°F. Roll dough into balls about 1-inch in diameter, then roll in sugar. Place on a greased cookie sheet about 2 inches apart. Bake for 8 minutes. Let cookies cool on the cookie sheet for 2 minutes, then transfer to a wire rack to cool completely.
Yields approximately 3 dozen.