A few weeks ago, I mentioned that I made hamentaschen for Purim. Well, one of the side effects of making so many in so many different flavors was that I had some leftover poppy seed filling. Normally, leftover filling isn't an issue, because it's easy enough to find something else to do with it. Except that I only like poppy seeds in certain things.
It's snowed another 3 or 4 feet in the last couple of weeks, and I am SO over winter. I got to thinking about recipes and flavors that scream "spring", and my thinking went something like this:
lemon. lemon bars. good, but not what I'm looking for. but soon. I should write that down so I don't forget. Keep thinking. Lemon... poppy seed. Lemon poppy bagels. Yes, but no. Lemon poppy... muffins. Yes, lemon poppy muffins!
(side note: yes, I have 2 college degrees and sometimes have the attention span of spaghetti. It happens.)
I made lemon poppy muffins a couple of weeks ago and told mom that I would make some for her. I did, but then I ate them. Whoops. I still had some leftover poppy filling and wanted to do something with it before it went bad. I didn't want to make muffins again because I figured the poor little guys would probably never make it my mom's house. Joe and I were talking about dinner, and I asked if he wanted to me to break to go with it. Then, I decided I'd make mom a lemon poppy bread. (Also, I feel like I should tell you that I keep writing lemon poopy. I don't know why. These aren't poopy.)
I mixed up all my ingredients, put the loaf in the oven, and called Josh. I had to find out what time mom got out of work, because I wanted to make sure it would be there when she got home. I told Josh what I was making, and he told me he didn't really like lemon but that it sounded delicious so he would try it.
It finally came out of the oven, cooled down enough for me to bring it to mom. When I got there, Josh wanted to try it with me to make sure I got a piece. I cut a smallish end piece (my favorite!) and handed him a little bit in case he really didn't like it. His response: "oh man this is sooo good, you should make one for yourself!" I left him with strict instructions to save some for mom.
Basically, the muffins and the bread are the perfect spring time treat. The lemon flavor is enough that you notice it, but not enough for you to make a sour face. The poppy seeds add the perfect nuttiness and crunch to compliment the lemon. And the lemon glaze is the icing on the cake (badum! I'll be here all week, folks!). Really though, the lemon glaze makes it for me. The combination of lemony tartness and sugary sweetness really work together to create a fresh and bright taste that makes me think of spring. And after learning that we've gotten 106 inches of snow this winter, I'm DEFINITELY ready for anything that resembles springtime!
Lemon Poppy Muffins
To print this recipe,
click here
Ingredients

For the muffins
2 sticks butter, room temperature
1 c. sugar
2 eggs
zest of 1 lemon
juice from 1/2 lemon
2 tsp. vanilla extract
1 c. full-fat sour cream
2 tsp. baking powder
2 Tbsp. poppy seeds
2 c. flour
For the glaze
1/2 c. confectioner's sugar
juice from 1/2 lemon
In the bowl of a stand mixer fit with the paddle attachment (you can definitely mix these by hand or with a hand mixer, too!), beat butter and sugar until smooth. Add in the eggs, one at a time.
Beat in lemon zest, lemon juice, vanilla and sour cream. Batter will be thin and lumpy. Stir in flour, poppy seeds and baking soda. Batter will be thick and easy to scoop.
For muffins: Line a 12-count muffin tin with baking papers. Fill each one until they're about 3/4 of the way full. Bake at 375°F for 18-20 minutes, until the tops spring back when lightly pressed and a toothpick inserted in the center comes out clean.
For bread: Grease a loaf pan and fill it with with batter, spreading to make sure it's even. Bake at 325°F for approximately 1 hour, until the top is a light, golden brown and a toothpick inserted in the center comes out clean.
Let the muffins or bread cool for 5 minutes. Combine glaze ingredients and drizzle over muffins or bread while still warm. Let cool completely and enjoy!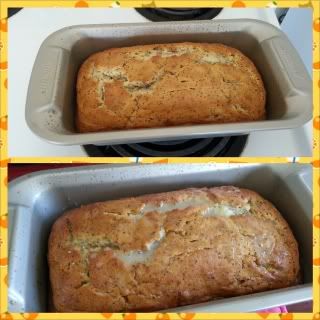 What are some of your favorite spring or summer flavors?