It's National Peanut Butter day! OK, so I didn't know that was actually a thing until this morning, but I figured that it was perfect timing for me to post the peanut butter cup brownies I made.
For Christmas, Joe's sister got us a huge thing of Reese's Peanut Butter Cups. I don't even know how to describe this to you, so I'll just show you a picture instead: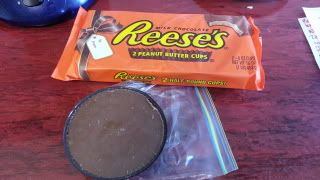 Can you see what it says on the package? That package has two HALF POUND peanut butter cups in it. I bought Joe one of these for Christmas a couple years ago, and one peanut butter cup was still in the fridge. He said it tasted amazing, but was basically impossible to eat. ESPECIALLY because he's a genius and put it in the fridge in the first place (sarcasm).
So, I had three of these things on hand and I wanted to do something with them. I was originally thinking cookies, but then I decided that I hadn't made brownies in awhile, and there's not too many things that are better than a peanut butter brownie. So, I chopped up one peanut butter cup and threw it in the brownie batter. The result was just what I was looking for: a rich, chocolatey and chewy brownie with thick pockets of peanut butter throughout. They're sitting on the counter in the kitchen and I'm sitting here practically drooling as I write about them.
Peanut Butter Cup Brownies
Modified from
Hershey's
To print this recipe,
click here
3/4 c. Hershey's unsweetened cocoa
1/2 tsp. baking soda
2/3 c. butter, melted and divided
1/2 c. boiling water
2 c. sugar
2 eggs
1 1/3 c. flour
1 tsp. vanilla extract
1 1/2 c. Reese's Peanut Butter Cups, chopped
Preheat oven to 350°F. Grease a 13" x 9" baking pan.
In a large bowl, combine cocoa, baking soda and 1/3 cup butter. Add boiling water and stir until mixture thickens. Mix in sugar, eggs and remaining 1/3 cup butter; stir until smooth. Add flour and vanilla and stir until thoroughly combined. Fold in peanut butter cups. Pour batter into prepared pan.
Bake 30-35 minutes, until top edges of brownies begin to pull away from the pan and a toothpick inserted comes out clean.
Cool in pan on wire rack. Cut into squares. Yields about 36 brownies (depending on size).