I have a confession to make.
I am a chocoholic.
Not too surpringly, I have to have some chocolate every day. Not a lot, but at least a piece or two. I try to keep emergency chocolate it in my car and my desk at work (admit it, we've all done it!), but it usually doesn't last long enough to constitute "emergency". I'm not biased against any chocolate: white, milk, dark, the damn cocoa beans themselves - just give it to me!
Since my brother, Josh, and I are really close, it should come as no surprise to anybody that he is also a chocoholic. For his birthday a couple of years ago, I made him these amazing cupcakes.
Recipes and pictures ahead! (FYI: I put the cupcakes and frosting as separate printables in case you only want one or the other!)
Chocolate Cupcakes
To print this recipe,
click here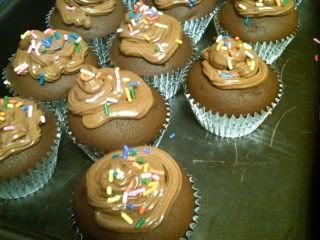 1 stick butter, softened
1/2 cup granulated sugar
2 eggs, room temperature
3/4 c. flour
1/2 tsp. baking powder
1/4 tsp. baking soda
1/4 tsp. salt
1/2 c. unsweetened cocoa powder
1/2 c. milk
1 tsp. vanilla
apprx. 1/3 c. semisweet chocolate chips
1. beat butter until fluffy
2. add sugar and eggs; beat until combined
3. combine dry ingredients and milk/vanilla in separate bowls
4. beginning with the dry ingredients, alternately add dry/wet ingredients until combined. finish with the dry.
5. toss the chocolate chips in little of the flour/cocoa powder mixture. once coated, add to the batter and mix well with a wooden spoon.
Bake at 350º for 22 minutes or until a toothpick comes out clean. Yields 12 cupcakes.
Chocolate Buttercream Frosting
To print this recipe,
click here
2 sticks butter, softened
1 teaspoon vanilla
approx. 2 cups confectioners sugar
approx. 3/4 c. cocoa powder
2-4 tbsp milk
1. cream butter until smooth; add vanilla
2. slowly add dry ingredients. beat thoroughly until combined
3. add milk, 1 tbsp at a time, until desired consistency is reached
**note: this leaves you lots of leftover frosting. to use it all, you'll want to double the cupcake recipe**